Browse Exhibits (1 total)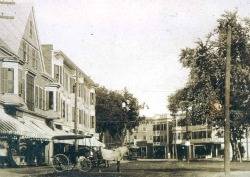 The town of Saugus, Mass. was settled in 1629 and incorporated in 1815. Saugus is a diverse community consisting of 11 square miles located approximately 13 miles North of the City of Boston and with a population of approximately 27,000. The town is geographically divided North to South by the famous Route 1. This 3-mile strip of highway is home to many popular restaurants and retail stores, as well as a Regional Shopping Center.
Saugus is home to the historic Saugus Iron Works, which was the first integrated iron works in North America. Saugus was also the birthplace of the ice-making industry in the United States.
These historic image collections cover a wide range of subjects depicting Saugus' past. Select a collection to browse or search by
topic
.