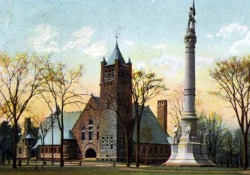 The town of Wakefield, Massachusetts is a community of 24,664 residents approximately 10 miles north of Boston. Wakefield was settled as Lynn Village in 1638 and was incorporated as Wakefield in 1868. Wakefield covers 7.9 square miles and has two bodies of water: Lake Quannapowitt and Crystal Lake. Wakefield has an open town meeting and is governed by an elected Board of Selectmen.
Explore Wakefield by
topic
or browse the Beebe Memorial Library's collections.
The Beebe Memorial Library's second annual "Then and Now Contest" was held during the spring of 2011. Entrants in this digital photo contest werea sked entrants to select an historic photo of Wakefield and to take a matching photo of the same location today. As an added twist to this year's event, however, the photographers then created a "mash-up" of the two images. This collection includes all submissions to the 2011 contest.
Beebe Library's "Wakefield Then & Now" photo contest asked entrants to select a historic photo of Wakefield and go out and take a matching photo of the same location today. This collection includes the original images and corresponding entries from the 2010 contest.
Paintings, photographs, sculptures and other art on display around the library.
The library's collection of old photographs of Wakefield numbers in the hundreds. These images document Wakefield's architecture, landscape, businesses, places of worship, and many of its former citizens.
Wakefield's postcard collection includes images of the town's most famous landmarks, both present and past, including Lake Quannapowitt and the old Pleasure Island Amusement Park, as well as many of the city's churches, schools, and public buildings.
The Wakefield Municipal Gas and Light Department has preserved hundreds of images of Wakefield in its annual calendar.
Images of contemporary buildings, scenes and sites around town.
The Wakefield High School Yearbook Collection includes more than 80 volumes of The Oracle, dating from 1932. Additionally, this collection includes 18 volumes of The Debater, which preceded The Oracle.
Beebe Library owns a number of books about Wakefield history which have been scanned and made available online through the efforts of the Internet Archive, a non-profit organization founded in 1996 to create an online digital library and preserve it for future historians as well as current users.