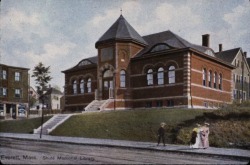 The City of Everett is a community of 42,935 situated on the northern border of Boston. Everett was part of Malden from the time it was first settled until 1870, when it became a town. In 1892 Everett was incorporated as a city. Until 2013 Everett had the only bicameral city government, consisting of a Board of Aldermen and a City Council, in the country. Its charter was revised in 2014 and Everett now has a single City Council as its governing body.
Black and white photographs depicting the people and places of Everett, Mass.
Historical postcards depicting landmarks in Everett, Mass.
The Everett High School Yearbook Collection includes 17 volumes of Memories, dating from 1953. This collection includes 36 volumes of The Crimson, which succeeded Memories.