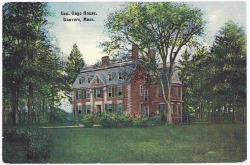 Though just 17 miles north of Boston, the town of Danvers, 13.5 square mile area and population of 25,000, still retains much of the hominess and architectural heritage of old New England. There are still over a dozen houses in Danvers dating from the 17th century, many associated with the witchcraft tragedy of 1692. In 1752, Danvers became independent from Salem, and soon witnessed the growth of various neighborhood villages, each having its era of prominence.


This exhibit features images of Danvers digitized during the Mass. Memories Road Show held at the Peabody Institute Library, Danvers in June 2010 and collected during regular community scanning events.

Help us to document Danvers history through family photos by allowing us to scan pictures of family, friends, local events or anything depicting life in Danvers!

Bring your photos (up to five at a time) to the library on Thursdays from 6-8pm. We'll scan and add them to our online database and annual library photo gallery.