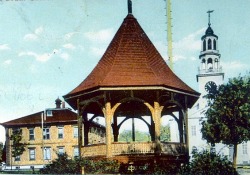 Reading was incorporated as three parishes on June 10th, 1644, taking its name from Reading, England. The first parish, later known as South Reading, became Wakefield in 1868. A special grant in 1651 added land north of the Ipswich River to the Town of Reading. This area in 1853 became the separate Town of North Reading. During its early years, the area which is currently the Town of Reading, was known as Wood End, or Third Parish. The Town of Reading, population 23,708, covers 25.7 square miles. Reading voted in Home Rule Charter in March of 1986. This form of government focuses the policy and decision making function in a very few elected boards and committees, and provided for the creation of the Town Manager position to be responsible for day to day operations of the local government.
Please select a collection to explore the Reading Public Library's digital history resources or search by
topic
.
Reading Public Library and Walkable Reading have teamed up to create self-guided "Walkable Reading Podtours" to help people learn more about Reading homes. These audio descriptions can be downloaded to your MP3 player. You can then plan your walk or bike ride to pass by historic homes and learn a little about the former inhabitants.
Historical images of Reading, including the business district, schools, churches, and aerial views.
Postcards from the collection of the Reading Public Library