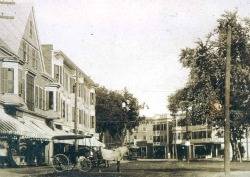 The town of Saugus, Mass. was settled in 1629 and incorporated in 1815. Saugus is a diverse community consisting of 11 square miles located approximately 13 miles North of the City of Boston and with a population of approximately 27,000. The town is geographically divided North to South by the famous Route 1. This 3-mile strip of highway is home to many popular restaurants and retail stores, as well as a Regional Shopping Center.
Saugus is home to the historic Saugus Iron Works, which was the first integrated iron works in North America. Saugus was also the birthplace of the ice-making industry in the United States.
These historic image collections cover a wide range of subjects depicting Saugus' past. Select a collection to browse or search by
topic
.
Slides from Helen Cutter collection at the Saugus Public Library. This collection was a gift to the library from the Cutter Family.
This collection of glass slides belonged to Helen Bosworth and is a gift to the Saugus Public Library from Judith and Robert Hoffman.
These images have been taken primarily at the Saugus Public Library.
The Saugus Public Library has digitized two sets of yearbooks, one from Saugus High School and one from the Belmonte Middle School. Both sets of yearbooks are available online via the Internet Archive site.