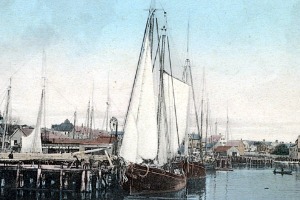 In 1830 nearly 100 Gloucester residents met and formed the Gloucester Lyceum. The purpose of the organization was to bring community members together to participate in lectures and debates which fostered ideas and information. The Lyceum inevitably led to the formation of a library. Through the generous donations of Samuel Sawyer, a local businessman and philanthropist, the library collections and building were acquired. The Gloucester Lyceum and Sawyer Free Library is the literary and cultural center of the city. The library has a collection of over 100,000 items, a wide variety of programs and cultural events, and a friendly, service-oriented staff. The library reaches near and far, both in the library and with our wireless internet access, online databases, and digital collections.
Explore Gloucester and Cape Ann by
topic
or browse the Sawyer Free Library's collections.
The Gloucester High School Yearbook Collection includes nearly 90 volumes of the school's annual, the Flicker, beginning with the 1924 edition. All volumes are available for browsing from the Internet Archive. The original publications are also available at the Sawyer Free Library by request.
"Toward an oral history of Cape Ann" was an oral history project which interviewed prominent and ordinary Cape Ann citizens between 1978 and 1989. Principal oral historians Linda Brayton and David Masters recorded 100 oral histories reflecting the cultural and economic past and present of Cape Ann.
The Gloucester postcard collection shows various historical and recreational sites, as well as maritime scenes of Cape Ann during the early to mid-twentieth century.
The List of vessels was an annual publication which chronicled the fishing industry of the Cape Ann area from the years of 1869-1908.
Gloucester has a variety of maps and atlases in its collection. Some maps are of local interest, including street maps and maps of local landmarks and sites of interest. There are also geological maps of Massachusetts and nautical charts of the New England coast.