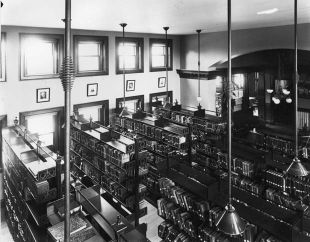 The town of Winthrop, Massachusetts is a community of 18,000 residents approximately 10 miles north of Boston. Winthrop was settled in 1630 by John Winthrop, the second governor of the Massachusetts Bay Colony and is one of the oldest cities in the United States. The Deane Winthrop House, once owned by Governor Winthrop's son, is the oldest continually occupied home in the country. Winthrop was annexed by Boston in 1632. In 1739, what are now the cities of Chelsea, Revere and Winhrop seceded from Boston to form Chelsea. In 1852, Winthrop was incorporated as a town.


A collection of correspondence and signatures by historically significant persons, including politicians, statesmen and military leaders. Included among these are Abraham Lincoln, Thomas Jefferson, William Lloyd Garrison, Frederick Douglass, Henry Wadsworth Longfellow, Oliver Wendell Holmes, and Mark Twain.
The Winthrop High School Yearbook Collection includes 91 volumes of The Echo, dating from 1915 through 2014. These yearbooks were digitized by the Boston Public Library and are now available via the Internet Archive.
A collection of photographs, both historic and contemporary, from the Winthrop Public Library and Museum.